Chromebooks
A Chromebook is a specialized laptop that allows students to use Google Apps for Education more seamlessly. This tool will remain at school and be used during class time.
With a new piece of technology, there are many opportunities and challenges presented.  As we explore this new technology, students will be asked to use the Chromebooks and provide feedback on their ideas, opinions and help find solutions.  Students will have the benefit of learning how to use the technology to further their understanding of core content and learn valuable lessons on digital citizenship.  
When using the Chromebooks, students will be accessing their school assigned Google accounts.  All of our students have accessed these accounts and know how to log in. This account is available for students to access from any computer, and can even use it on a smartphone if they choose.  Students' Google accounts will follow them through high school.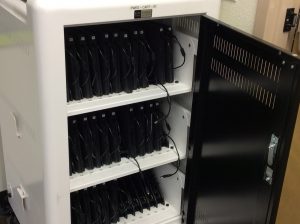 Chromebooks                                                                    
El Chromebook es una computadora(laptop) especializada que permite a los estudiantes a usar Google Apps para la Educación sin más problema. Esta herramienta permanecerá en la escuela y será usado durante la hora de clase.
Con una pieza de tecnología, hay muchas oportunidades y desafíos que se han presentados.  Mientras exploramos esta nueva tecnología, se pedirá a los estudiantes que usen los Chromebooks y proveer reacciones sobre sus ideas, opiniones y ayuda para encontrar las soluciones. Los estudiantes tendrán el beneficio de aprender en cómo usar la tecnología y adelantar su comprensión del centro del contenido en y aprender lecciones valiosas de la vida digital.
Cuando están usando los Chromebooks, los estudiantes tendrán acceso a sus cuentas de la escuela asignadas para Google. Todos los estudiantes han tenido acceso a estas cuentas y saben cómo entrar en el sistema. Esta cuenta está disponible para que los estudiantes tengan acceso desde cualquier computadora, y pueden usarlo con su smartphone si así lo desean. Las cuentas Google de los estudiantes les seguirá hasta el high school.