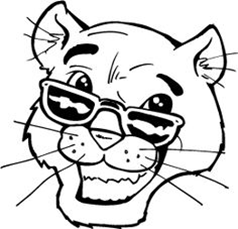 COUGAR NEWS
Week 30  – March 18th – 22nd, 2019
What's Happening This Week: 
Thursday – SPRING PICTURES (optional) *packets were sent home in Friday folders on the 15th.

Upcoming Events:
March 25th – 29th = SPRING BREAK – NO SCHOOL *B&G Club open
April 1st (Mon) = Back to school
April 5th (Fri) = NO SCHOOL – Grading Day *B&G Club open
April 9th (Tue) = PTT Meeting at 6:00 pm
April 11th (Thur) = 1st Grade field trip to Evergreen Aviation/Space Museum at 9:00-2:00.  $4 per student
April 11th (Thur) = Conferences after school at 3:00-7:00pm
April 12th (Fri) = NO SCHOOL for Teacher conferences *B&G Club open
April 12th (Fri) = Conferences All Day at 7:40am – 6:40pm with lunch and dinner breaks
April 15th (Mon) = NO SCHOOL – Certified Training Day *B&G Club open
April 22-May 10th = 2019-20 PRE-REGISTRATION *Form will be sent home to be returned. **1st Class to return all forms = ICE CREAM PARTY!
April 25-26th (Thurs/Fri) = B&G Club CLOSED. Please let the office know your students After school plan for those days.
Morning Math Club  for All Students at 7:15am in the Library.
Every Tues/Thurs: SMART Reader Program for K-2nd Grade. Every Tues & Thurs during school. Teacher will nominate students and send home permission slips. Must be returned for your student to start.
*EVERY WEDNESDAY IS EARLY RELEASE @ 1:25pm*
*EVERY FRIDAY ASSEMBLY (unless noted or no school) @ 2:00pm*
New Disney "FROZEN" Smencils are HERE!!
Avenger Smencils are still available.  Smencils are only $1/each and all money goes towards Sunrise !
Buy one or two in the Office!

JANUARY  TOTALS = 313 BoxTops = $31.30
 BoxTops  JANUARY Winners:
PRIMARY: POMEROY— 1st Grade
INTERMEDIATE: ELLIOTT— 4th Grade
2018-19 TOTALS = $152.20
Office Hours – 7:30am – 3:00pm
Students are not to arrive at school before 7:40am – we have no supervision until that time.