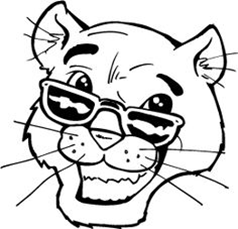 COUGAR NEWS
Week #7/Oct  14-18th, 2019/OCT Character Trait: INTEGRITY
   EVERY WEDNESDAY IS EARLY RELEASE @ 1:25pm*
 NOTE: There will NO Good News Club this WED Oct. 16th after school. If you student attends Good News club they will need to be picked up or follow their regular after school plan for Wed (early release @ 1:25pm)
 We have HALLOWEEN SMENCILS for sale in the office @ $1/EA
 BOX TOPS = Make sure and send Boxtops with your students! The winning classes each month gets a prize or reward!!
 PICTURES were sent home on Thurs 10th with your students—PLEASE CHECK THEIR BACKPACKS!!
 What's Happening This Week:
 Oct. 15th (Tues) = KINDER Field Trip to Pumpkin Patch @ 8:30-10:45am *Parents must fill-out/sign & return permission slip for student to attend
 Oct. 16th (Wed) = NO Good News Club after school for today. Please let us know what your student's after school plan will be for this day.
 Oct. 18th (Fri) = NO SCHOOL—B&G Club is open
 UPCOMING EVENTS:
Oct. 21st (Mon) = Bus Evacuation Drill
 Oct. 23rd (Wed) = PICTURE RE-TAKE DAY!! You MUST return the original packet for retakes OR if your student did not get picture taken Sept 20th
 Oct. 23rd (Wed) = CONFERENCES after school— 3-7pm *more info to follow
 Oct. 24th (Thurs) = CONFERENCES: 7:40-11am; 12-4pm & 5-7pm
 Oct. 24-25th (Thurs/Fri) = NO SCHOOL — B&G Club is open
 Oct. 31st (Thurs) = Costume Serpentine Parade @ 1:45pm. Look for flyer to be sent home as it gets closer with more info.
HALLWAY BLITZ/ORANGE COUGAR SIGHTINGS WINNERS:
 K-2nd  = MRS. CORDER (KG)
3-5th   =  MRS. LOGAN (3rd)

Sept. = 478 Box Tops Total $47.80
KG—2nd GRADE: BRUNKER/KG  3rd-5th GRADE: HANSON/4th
SEPT. PRIZE = EXTRA RECESS !
PLEASE TURN in BOX TOPS to your student's teacher or to the office  – The classroom that wins each month receives a special prize or reward from our PTT !!