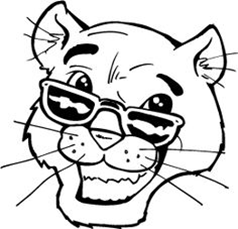 COUGAR NEWS
Week #12/Nov 18th – 22nd, 2019
NOV Character Trait: Personal Responsibility
* EVERY WEDNESDAY IS EARLY RELEASE @ 1:25pm*
 "Guardians of the Galaxy" SMENCILS for sale in the office @ $1/EA
BOX TOPS = PTT is working on a new Box Top program for Sunrise… Stay tuned for more info! In the meantime, turn them into your teachers!!
SCHOOL STORE = THANK YOU to all the parents that are participating in SchoolStore! PLEASE REMEMBER TO DO ALL YOUR ONLINE SHOPPING THRU SCHOOLSTORE during the holiday season and help us purchase a new LAMINATOR!  
  What's Happening This Week:
Nov. 4-15th* = 3rd-5th Grade Swim School *No class 6th/11th & 13th Please make sure that your student has a swimsuit and towel

3rd Grade =  9:30am-11am
4th Grade = 12:45pm-2:15pm
5th Grade = 10:30am-12pm
NOV 20th (Wed) = Classified Appreciation Day 
NOV 22nd (Fri) = NOV Box tops are due (Winning classes get OTTERPOPS!)
 UPCOMING EVENTS:
NOV 28-29th (Thurs/Fri) = NO SCHOOL = Thanksgiving Break 
DEC 5th (Thurs) = B&G Club CLOSED *Please let the office know what your student's after school plan will be for this day. 
DEC 9-13th = BOOK FAIR on STAGE — Times TBA 
DEC 10th (Tues) = PTT Meeting @ 6pm *Childcare available 
DEC 13th (Fri) = Sunrise Family Dessert Social @ 6-7:30pm in Cafeteria *More details to come (Book Fair will be open!)
DEC 20th (Fri) = PAJAMA DAY! To kick off the Winter break, students are allowed to wear school appropriate Pajamas! (NO Slippers, must be able to do PE & Recess)
DEC 23-JAN 3rd = NO SCHOOL / WINTER BREAK 
JAN 7th (Mon) = Back to School & HAPPY NEW YEAR!
OCTOBER ATTENDANCE INFO
OCT GRADE WINNER IS….5th GRADE @ 95.85%
OVERALL SCHOOL AVERAGE : 94.99%
PERFECT ATTENDANCE: #175 STUDENTS !!
.
   EVERY WEDNESDAY IS EARLY RELEASE @ 1:25pm*
 NOTE: There will NO Good News Club this WED Oct. 16th after school. If you student attends Good News club they will need to be picked up or follow their regular after school plan for Wed (early release @ 1:25pm)
 We have HALLOWEEN SMENCILS for sale in the office @ $1/EA
 BOX TOPS = Make sure and send Boxtops with your students! The winning classes each month gets a prize or reward!!
 PICTURES were sent home on Thurs 10th with your students—PLEASE CHECK THEIR BACKPACKS!!
 What's Happening This Week:
 Oct. 15th (Tues) = KINDER Field Trip to Pumpkin Patch @ 8:30-10:45am *Parents must fill-out/sign & return permission slip for student to attend
 Oct. 16th (Wed) = NO Good News Club after school for today. Please let us know what your student's after school plan will be for this day.
 Oct. 18th (Fri) = NO SCHOOL—B&G Club is open
 UPCOMING EVENTS:
Oct. 21st (Mon) = Bus Evacuation Drill
 Oct. 23rd (Wed) = PICTURE RE-TAKE DAY!! You MUST return the original packet for retakes OR if your student did not get picture taken Sept 20th
 Oct. 23rd (Wed) = CONFERENCES after school— 3-7pm *more info to follow
 Oct. 24th (Thurs) = CONFERENCES: 7:40-11am; 12-4pm & 5-7pm
 Oct. 24-25th (Thurs/Fri) = NO SCHOOL — B&G Club is open
 Oct. 31st (Thurs) = Costume Serpentine Parade @ 1:45pm. Look for flyer to be sent home as it gets closer with more info.
HALLWAY BLITZ/ORANGE COUGAR SIGHTINGS WINNERS:
 K-2nd  = MRS. CORDER (KG)
3-5th   =  MRS. LOGAN (3rd)

Sept. = 478 Box Tops Total $47.80
KG—2nd GRADE: BRUNKER/KG  3rd-5th GRADE: HANSON/4th
SEPT. PRIZE = EXTRA RECESS !
PLEASE TURN in BOX TOPS to your student's teacher or to the office  – The classroom that wins each month receives a special prize or reward from our PTT !!